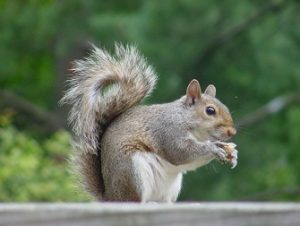 Squirrels are active and curious creatures and are always on the lookout for food and shelter. When they climb trees on your property, they gain access to your roof and siding and even with a very small opening, they can find their way inside your home. It's impossible to pinpoint exactly when it happens but before you know it, squirrels can do a significant amount of damage to the exterior of your home, particularly to areas of wood, fascia or siding that might already be vulnerable. For example, they might chew their way into the walls, attic and leave wood and siding exposed to the elements, which can cause rotting and worse. They are also known to chew your wiring, pipes and ducts. You may have heard a neighbor talk about having to have major exterior repairs because of a squirrel infestation. Unfortunately, this is much more common than you might think.
Protecting Your Home From Squirrels
Minnesota Wild Animal Management will take a comprehensive approach to preventing squirrels from being able to enter your home in the first place. You likely already know that we can remove any squirrels that may seek refuge in your home, but our team is also very good at keeping them from ever being able to get in. We can do a thorough assessment of the exterior of your home and identify any potential vulnerable spots that need repair. We can complete the repairs quickly so that you do not have to worry about sharing your home with a squirrel or any other wild animal. Preventing these wild animals from entering your home can save you serious stress and money. Rather than spending thousands on exterior repairs, investing in wild animal prevention can be an excellent way to protect your home.
Wild Animal Management And Prevention Services In Minnesota
Minnesota Wild Animal Management also offers a two-year warranty on our squirrel prevention services. We stand behind our work and this guarantee can give you the confidence you are looking for so that you know that you will not have a wild animal problem on your hands. This warranty is unmatched in the area, making our team an excellent choice for squirrel and other wild animal prevention. Do not wait until the squirrels find a way in to nest and cause other problems. Call us at 612-237-8282 and we will make sure that squirrels cannot gain entry into your home!