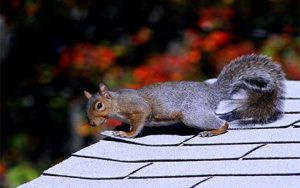 While we can all recognize the "adorableness" of squirrels in the park or outside playing on a tree, squirrels don't look so cute when they are invading and tearing up your home. At Minnesota Wild Animal Management, Inc., we are your professional squirrel removal experts. If you are looking for a timely and humane way to remove the pesky squirrels in your home, we are only a phone call away. With over 35 years of combined experience in wildlife control, we've got your back.
Squirrels in Minnesota
Around the Twin Cities metro area, there are three types of squirrels we see most commonly. Those include red squirrels, grey squirrels, and the allusive flying squirrel that only comes out at night. As we bundle up and prepare for the winter, the squirrels in our area do as well. Unfortunately, they sometimes choose the wrong place to seek shelter. Squirrels have commonly found their way into attics, chimneys and even wall spaces within your home. No matter how cute they are at the park, when squirrels invade your home they can wreak havoc. Squirrels are known for their ability to chew through just about anything. Nothing is off limits in your home. Wires, pipes, ducts, vents, ceiling, woodwork, stud walls, siding, decks…you name it, squirrels will chew it. They are also incredibly hard to catch as they wiggle their way into unreachable areas. Of course, while they are in that unreachable space, they urinate and defecate which can cause major sanitation problems and a terrible odor. Long story short, squirrels have no place in your home and need to be removed as soon as possible.
Your Professional Squirrel Removal Experts
At Minnesota Wild Animal Management, Inc., we will humanely trap and remove your squirrel problem. Our professionals come equipped with the knowledge and experience to timely remove squirrels without disturbing your home. Once the squirrels are removed, we also do our due diligence to fix the damage that the squirrels may have caused and then perform prevention measures to your home so that this does not happen again!
So, if you have a squirrel problem and you are looking for a trained animal control expert to take care of the problem, look no further. For more information about professional squirrel removal and our experts here at Minnesota Wild Animal Management, Inc., give us a call today at (763) 785-1414.