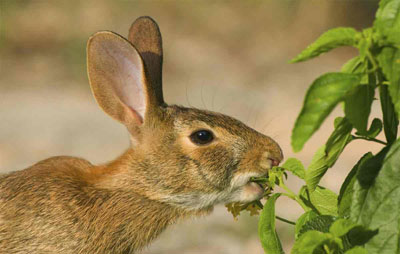 Many of us have very positive impressions of rabbits — they are cute, cuddly, loved by children, and can even become a family pet.  However, rabbits can completely destroy a garden or flowerbed in a matter of minutes, eating their weight in vegetation and flowers.  If you live in the Maple Grove, Minnesota area and suspect that you might have a rabbit problem, contact the wildlife removal professionals at Minnesota Wild Animal Management Inc. for assistance.  Our team has a combined three decades of experience and a commitment to safe and humane removal of rabbits and other wildlife that are inching too close to your home or property.
Rabbit Control And Removal, Maple Grove, MN
If you spend time in your garden or flowerbed, it is likely that you have come across damage caused by rabbits eating away at vegetation and flowers.  You may have had to repeatedly replant and even tried tirelessly to protect your vegetation from the pesky rabbits.  Minnesota Wild Animal Management Inc. can come to your home and determine exactly where the rabbits are nesting and make a plan to remove them from your property once and for all.  In addition, our team can also help you implement techniques that will keep the rabbits from returning and ruining your garden.
There is no need to remove rabbits using extermination techniques.  The wildlife management team at Minnesota Wild Animal Management Inc. instead will offer fast and humane solutions for your rabbit or wildlife problem.  We can develop and build effective rabbit control techniques for your property that will make rabbits an accepted and interesting addition to your backyard or rural landscape, not a nuisance.
Wildlife Removal Experts
Our team understands that the biggest reason wildlife invades our homes and property is because we have actually invaded theirs. We bring knowledge, skill, and experience in all types of Minnesota wildlife to each of our jobs and use this knowledge to help protect your property and the animals.  In most all cases, these animals are searching for food, shelter, and warmth but can destroy or damage your property in the process. Our team will make every effort to remove rabbits, birds, raccoons, squirrels, snakes, mice, chipmunks, moles, and other unwanted pests from your property.  Call our 24/7 emergency line at (612) 237-8282 to speak with one of our technicians and schedule a time for us to come out and assess your wildlife problem.