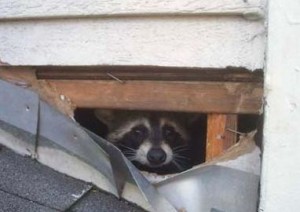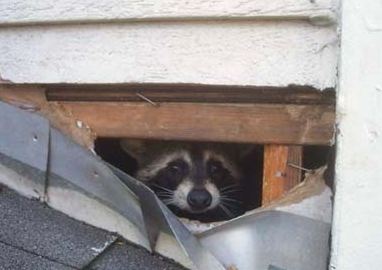 If raccoons could talk, what do you think they would say? "I liked your garbage so much that I think I'll come back for your electrical wiring," or "if you take one step further I will hiss at you so hard you'll end up getting rabies shots for weeks." There's no telling what raccoons have on their minds when you come up to them. It's likely, however, that fear is at large for both you and the raccoon. At Minnesota Wild Animal Management Inc., we happily serve the Minnetonka, MN area and can remove those critters from your home or business at a moment's notice. If you've got a raccoon problem, don't try to read their minds. Call the experts at Minnesota Wild Animal Management Inc.
Raccoon Damage Repaired
If you are an animal lover at all, it's hard not to get a little excited about these little critters. Honestly, they are kind of cute. They're like a nice cross between a panda bear and a squirrel, both adorable. So why wouldn't you want these guys around? Have you seen them mad yet? If you haven't, google that picture right now. You'll have a better understanding then. Raccoons are incredibly disruptive. They will knock over your garbage and rummage through your trash. They ruin gardens, tear up lawns, and can even begin to nest in your chimneys and attics. Once they have their young, the raccoons can get in tight and difficult to remove spaces. Additionally, the feces that they leave behind may carry all types of bacteria and parasites that can be harmful to humans and to your pets. Most importantly, raccoons can carry rabies, which is a fatal illness that can affect both humans and our pets. Bottom line, raccoons are not the animals you want around your property or in your home.
Humane Raccoon Removal
Minnesota Wild Animal Management Inc., is a raccoon removal company that offers 24 hours a day, seven days a week raccoon removal. We have over 35 years of combined experience dealing with raccoons specifically in this area. We can assure you that we will effectively remove your raccoon problem safely and humanely. Once the problem is removed, we will then work to repair the damage that it/they have caused and create steps for preventative measures to ensure that these animals will not be back.
We are so confident in our raccoon removal services that we offer a two year warranty. If you live in Minnetonka, MN and you are experiencing a raccoon problem, stop trying to talk to them and let the professionals handle it for you. For more information about Minnesota Wild Animal Management Inc., and our raccoon removal services, give us a call today at (612) 237-8282.