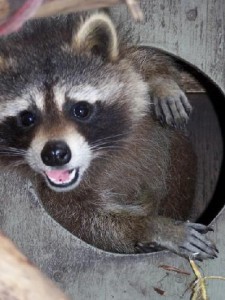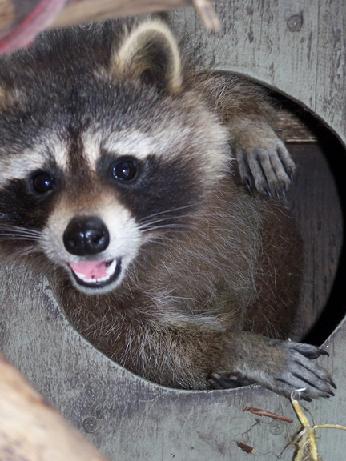 Raccoons are a common small mammal, they are not just a sight for Roger, MN residents, they wander the natural world all around North America, eat whatever they can get their hands on and live free of boundaries…or so they think. They may be unaware that they have crossed your path by making a den out of your home or leave a trail of trash behind them after they've feasted out of your garbage receptacles, but you're probably full aware.  Though it's not intentional, raccoons can become a daily headache. If this sounds like your properties current state Minnesota Wild Animal Management can be of great service to you. We have been offering wild animal removal, prevention and damage restoration services in Rogers, MN and the surrounding areas for more than 35 years combined.
Common Places Raccoons Den:
Attic
Chimney
Under Deck/Porch
Abandoned Car
Sheds
Shelter for Winter
Typically raccoons wander from one den sight to the next, not staying in one place too long but when the winter months approach, they look for a more long-term place that offers protection from the winter and a place to give birth to their young.  If you find one or a few tearing at the walls in your home or attic it's best to call a professional. Prevention is the most cost effective way to eliminate raccoon problems. If you see them sniffing around your home contact us and we can come out and install wire that will prevent them from spending the long winter months making a mess of your property.
Dangers of Raccoons
Well any wild animal comes with its own 'untamed personality' but raccoons are known for lugging around parasites, of course they can bite and they can also transmit rabies. Dogs are vaccinated but humans are not, other than rabies, they can cause a great deal of danger to pets.  It is best to keep your tamed and loved animals inside if you see a raccoon around your home. Raccoons may be smaller but they put up a mean fight, so be cautious.
Honestly, if you see a raccoon pulling at your siding, gutters, roofing or any other parts of your home or property, for the safety of everyone call Minnesota Wild Animal Management, we will humanely relocate the animal so that it doesn't disturb any member of your family.
Contact Minnesota Wild Animal at (612) 237-8282 today!