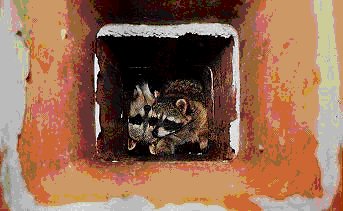 There are just some animals that you don't want to come in contact with in St. Paul, MN. For many people, a raccoon is an animal you would prefer to keep off of your property. They always seem to be up to no good and can cause serious damage to your property. These animals leave their disruptive behavior for the nighttime, so you may not even know that they are around. If your yard and garbage are showing signs that a raccoon is hanging around your home, don't try and capture this animal on your own. Instead, let our experts at Minnesota Wild Animal Management Inc., handle your raccoon removal needs. Our team has the experience and knowledge to humanely remove a raccoon from your property.
Dangers of Raccoons
Disease – These animals have been found to carry various diseases that are harmful to humans. Most commonly, these pests carry rabies as well as roundworm and leptospirosis. Not only can these diseases harm humans, but they can also seriously infect your pets as well.
Damage – Raccoons do their damage at nighttime, making it difficult to track what they are doing around your property. Often times, they are found getting into trash. Additionally, they dig up gardens as well as your yard in search of bugs and plants that they eat. If raccoons somehow make it into your home, their urine and fecal matter can significantly damage your home.
Attack – Raccoons pack a really strong punch. They have the ability to kill cats and small dogs, and can cause significant injuries to even large dogs. Their aggressive nature is reason enough to get rid of these animals the minute you believe they are around your residence.
5 Steps to Raccoon Removal Success
Thanks to the 35 years of combined St Paul wildlife removal experience, our team has mastered the 5 step process to keeping raccoons and other unwanted animals away for good!
Make the Call – Don't sit back and ponder whether or not you think a raccoon is around. Give us a call and let our experts make that determination.
Thorough Inspection – Once we arrive, we will perform a deep evaluation of your home and yard to look for possible signs that a raccoon has been hanging around.
Removal – Once it is confirmed that a raccoon has been lurking, our team will prepare for the humane raccoon removal process.
Repair – Let our staff be your one stop shop for raccoon removal as well as repairing any damage they may have caused.
Prevent – Now that the raccoon has been removed, it's important to ensure that no more return. Let us apply preventative measures around your property to make sure that these unwanted pests stay away for good.
If you feel like a raccoon has been hanging around your St. Paul, MN home, act fast before any further damage or interactions occur. Give Minnesota Wild Animal Management Inc., a call today at (612) 237-8282 and let our expert removal staff get to work for you!