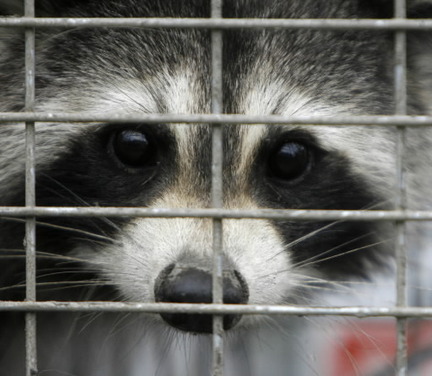 Raccoons are very interesting animals. They are omnivores, meaning that they eat plants and animals. They are curious and smart, and their love of food leads them to garbage cans and dumpsters all around us. Raccoons are generally recognizable because of their black mask on their face and the black rings around their tales. They are about 12" tall, 24-38" tall and weigh between 15-20 lbs. Raccoons have dexterous front paws that act like hands and they use them to access food in gardens, garbage cans in and around our homes. These paws can open doors, lids and even jars, and, when a raccoon finds a food source, it may continue to come back over and over, leaving a big mess behind. Raccoons also transmit disease to humans and pets, so it is important to take care of a raccoon problem quickly, if you have one. Minnesota Wild Animal Management Inc. can help you manage a raccoon problem once and for all.
Humane Raccoon Trapping & Removal Services
In addition to turning over garbage cans and tearing up yards and gardens, raccoons can also make nests in your chimney, your attic or underneath your deck. They can be extremely difficult to remove and because they can carry diseases like leptospirosis, salmonella, roundworm and even rabies, you should always work with a professional wildlife removal expert. Our team at Minnesota Wildlife Management Inc. has specific experience with raccoon trapping and can locate and eliminate their nests and safely and humanely remove them from your property. Our raccoon trapping service is highly effective and allows up to capture the raccoons on your property and relocate them so that they do not come back. In addition, our wildlife removal team can also repair any damage that the raccoons have left behind and ensure that they cannot re-enter.
24/7 Wildlife Removal Experts
Minnesota Wildlife Management Inc. has a Better Business Bureau rating of A+. Our team cares about your experience and works hard to offer high quality wildlife removal services and strong customer service. Our staff is professional, prompt and friendly and will carefully explain the steps we plan to take to remove raccoons or other wildlife from your home and how we will prevent the wildlife from returning. We also understand that wildlife can enter your home during the nights, on weekends and over holidays so we offer our services 24/7. For more information about our raccoon removal service, call us anytime at 612-237-8282.