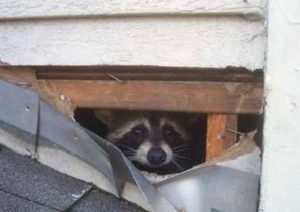 As adorable as raccoons can be, it's important to keep our distance from them. Raccoons are attracted to common foods that we consume. From garbage cans and pet foods to simply just a safe space to live, if raccoons are attracted to and around your home, it will not be long before they make their way in. At Minnesota Wild Animal Management, we are both a preventative and wild animal removal company in Minnesota. If you have a raccoon problem, we are here to help.
Raccoon Are Dangerous
Raccoons are dangerous for a variety of reasons. Most relevantly, raccoons can carry rabies. While rabies isn't extremely coon, if the animal is carrying it, it can spread to both you, your family and your pets. Rabies is fatal to any mammal, including humans. Additionally, if provoked, raccoons can be aggressive. If found in your home, you do not want to try and approach them yourself. That being said, raccoons are extremely difficult to remove on your own without the proper equipment. Getting raccoons out of tight areas can be seemingly impossible. Sometimes they intentionally place their young in a place that would be extremely arduous to remove. So, while your raccoon family is nesting in your chimney, attic, under your deck or a secret room in the home, you can be sure that they are also knocking over your garbage, tearing up your lawn, dropping their feces everywhere and carrying their own set of parasites that can easily be transferred to humans and pets.
A Raccoon Is In My House. Help!
So, what do you do if you find a raccoon, or often a raccoon family, inside your home? First and foremost, don't panic. Simply close the door of the room without making much noise so that the raccoon does not panic. Should it be connected to doors or windows that lead outside, go ahead and open those. If you have pets, be sure to place them in a separate space so that they do not interact with the raccoons. Then, call your friendly professionals here at Minnesota Wild Animal Management.
Prevention Is Key
At Minnesota Wild Animal Management, we will ensure that we remove the raccoons humanely and effectively. Our team will get to work swiftly, minimizing the damage that could potentially happen with raccoons in your home. We will then work to ensure they will not return, creating preventative measures to reinforce your property and keep those critters out.
For more information about raccoons in or around your home in Minnesota, give us a call today. Contact Minnesota Wild Animal Management today at (952) 881-6662.