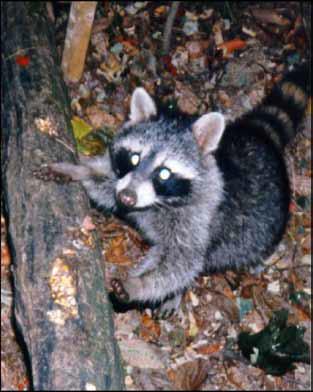 Raccoons are little masked bandits. Since they are nocturnal and are often times not seen during the day, their destruction can be a frustrating surprise to see in the morning. The last thing you want to have to do is clean up the trash cans they have knocked over, repair any lawn damage, and deal with the destruction they can cause to your home. Minnesota Wildlife Animal Management Inc. services the Twin Cities MN and is ready to help you remove pesky raccoons, repair damage to your home they may have caused, and prevent them from returning to cause more destruction.
Raccoon Control Twin Cities MN
Ultimately, raccoons that make themselves at home in your home are simply looking for shelter. As home growth occurs, the human population is taking the natural homes of wildlife, so they must look for places to live and our homes become very inviting to them. Raccoons love to enter homes in many places. They can be found in:
Attics
Chimneys
Ceilings
Walls
Duct work
Crawl spaces
Professional Raccoon Removal
We have all seen sweet pictures and even funny videos of raccoons. The reality is, however, they can be incredibly destructive and harmful to humans (their feces can carry parasites which can be harmful to humans and pets and at times even carry rabies). When a raccoon or family of raccoons make themselves at home, it is important to remove them quickly so that they don't damage your lawn, garden, deck, or even electrical wiring.
Minnesota Wildlife Animal Management Inc. is your go to company to remove raccoons from your home. We have a simple five step process that will rid your home of the unwanted raccoon and prevent any return visits. The first step is, of course, to give Minnesota Wildlife Animal Management Inc. a call. When we come we will inspect where the animal is entering and give you a no hidden fees quote for removal. The next step is to remove the pest; we pride ourselves on humanely removing the unwanted animal. After the animal has been successfully removed, we take steps to repair any damage they may have left behind. Finally, we ensure that the animals will not return and provide you with a two year warranty that the animal will not be able to re-enter your home.
If a raccoon or family of raccoons has decided your home is welcoming and made themselves comfortable, give Minnesota Wildlife Animal Management Inc. a call today at (612) 237-8282 to set up an appointment for us to help with humane removal.