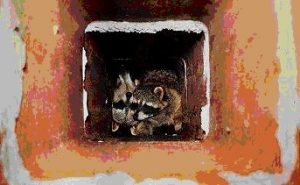 Raccoons are undeniably cute. When we see videos of them on social media, they are almost always doing something funny and entertaining. Yes, raccoons can be delightful and cute. But the vast majority of raccoons who attach themselves in some way to your property are not there to provide you with entertainment and they are certainly not there to be your pet. Minnesota Wild Animal Management can humanely remove raccoons from your property.
Safe and Humane Raccoon Removal in MN
Like all animals, raccoons are in a constant search for shelter and sources of food. Their intelligence makes them effective, and often very creative, problem solvers. If you are lucky, they may take up residence under your deck or maybe underneath (or inside of) your storage shed. In those cases, the raccoons may complicate your life, but they are still separate from your living space. In other cases, however, raccoons can find their way much closer to where you live and sleep.
In addition to being creative problem solvers, raccoons are very strong. That means that they are capable of identifying the interior of your house as a potential sanctuary from the cold, but that they are also strong enough to force their way in. It is not uncommon for raccoons to remove a ventilation grate to an attic and warm themselves there. If that ventilation grate cannot be fully removed, raccoons are strong enough to bend them enough to create an opening through which an entire family can fit.
Wild Animal Removal Services and Damage Repair
Once inside a warm, cozy shelter like your attic, a raccoon will not want to leave it. If you are lucky, your knowledge of their presence in your home will not involve a chance encounter. You do not want to startle a raccoon in your attic. Once you become aware of their presence in your home, it is important to contact us. Our staff are trained to remove the offenders and do so in a humane way. We strongly recommend that you resist the temptation to remove raccoons yourself. Raccoons carry bacteria, germs and disease and can also damage your home if they stay long enough.
Not only will our staff be able to remove the raccoons from your property, we can repair whatever damage they have caused. Call us at (763) 785-1414 anytime if you think that you may be sharing your home with a raccoon.