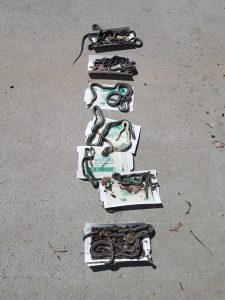 There are many different types of snakes in Minnesota. Most are truly harmless but can cause great fear if found in or around your home. In fact, there are only two types of venomous snakes in our state – the Timber Rattlesnake and the Eastern Massasauga snake. The types of snakes that most often make their way into your home or yard are a brown snake or a common garter snake, neither of which will cause you or your family any problem. However, the sight of a snake can make you and your family panic and want to get rid of it immediately. Minnesota Wild Animal Management, Inc. can safely and humanely complete snake extermination and removal services for you.
Over time with continued commercialization and growth, wildlife has been displaced. You may see more snakes these days because of this. The reality is that humans have pushed snakes and other wildlife out of their natural habitats, so they are now looking for food and shelter in what we think of as our space.
Humane Snake Removal Services
Our crew understands this dynamic and can help you get rid of the snake(s) that has invaded your property. If possible, we will locate and remove the snake in a humane way and move it to a place where it can continue to live and thrive. We can also locate any areas around your home that may be vulnerable to entry, make necessary repairs so that you do not have to worry about future snake encounters.
Snakes are normally not aggressive at all and will generally hide from you. If one gets inside your home, this can make it extremely difficult to find them. If a snake finds a place it really likes, it may also nest there and reproduce, causing much bigger problems. If you suspect that you have snakes on your property or inside your home, call our professional snake removal specialists at (763) 785-1414. We will respond to your request quickly, 24 hours a day and 7 days a week. In addition, our company is considered essential by the state of Minnesota, so we continue to work full time, even during the COVID-19 pandemic. We will take extra safety precautions to keep your family as well as our crew safe.
MN Snake Removal
Snakes may not be harmful or poisonous, but they can cause serious fear in many of us. Our team is used to handling snakes and can take care of them quickly and effectively so that you can go on with your daily life.