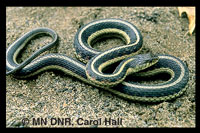 If you've got a snake in your yard, a snake nest in your basement, or a snake in your home's foundation, your first instinct may be to run far, far away. But before you burn your house down and never come back why not try giving the snake removal experts a call? At Minnesota Wild Animal Management Inc., we service the Minneapolis, Minnesota and Twin Cities area, providing a professional and reliable snake pest control service to Minnesota homeowners. Whether you're comfortable enough with snakes to try to remove them yourself or you're more of the type to run for the hills, we're here to help you safely remove snakes from your property.
Safe Snake Removal
The first thing you should know about snakes is that the vast majority of them are not poisonous. In fact, they're typically harmless. There is one caveat to that, though: they appreciate being left alone. If you decide to mess with a snake, be prepared for an unpleasant encounter and maybe even a snake bite. Although you might naturally try to remove snakes from your home yourself, you should be aware that snakes will rarely come easily, especially if they feel threatened. That's why we recommend calling the snake removal professionals at Minnesota Wild Animal Management Inc. and having your snake pest problem taken care of ASAP. With us, you can be sure that we have the proper training and experience needed to remove snakes safely and save you the trouble of having to fight them off yourself.
Snake Nest Removal
Because we've been dealing with wild animals and snakes for so long, we know the dangers snakes pose as well as their habits. We know what they eat, how they live, and where they might be hiding on your property, so if you think you have a snake nest tucked out of sight, we'll find it. Generally, people are alerted to snake nests either by an abundance of snakes slithering around or by simply happening upon the nest themselves. Typically, though, it's unclear where your snakes are nesting, and it may take a trained eye to find the entrance and exit to a nest. Snake nests can be built into foundations and hiding in drywall, and if it's a hidden nest, there's no way of knowing how many snakes you'll be dealing with until the nest is exposed. If you're aware of a snake nest in your home, it's essential that you call in a snake removal company to avoid any harm to yourself, the snakes, or your property.
Trusted Local Snake Pest Control Company
When your home is infested with snakes, or you're not quite sure what to do about a snake nest you found in your basement walls, contact the snake removal experts at Minnesota Wild Animal Management Inc. We're here to keep you and your unwelcome guests safe, finding and removing snakes and snake nests quickly. Call our 24-hour number, 612-237-8282, if you have an emergency, or call any of our regular service numbers to schedule an appointment: 612-237-8282, 763-785-1414, 651-633-8600, or 952-881-666.