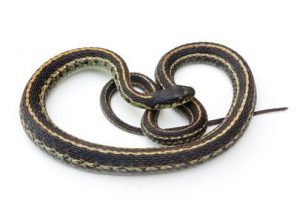 Snakes generally evoke fear in us – and if you see one on your property or inside your garage or home, you may feel a sense of true panic. The reality is that most snakes are harmless, but in that moment when you come eye to eye with one, it is nearly impossible to make this determination. Fortunately, snakes are very rarely aggressive toward humans. In fact, they are likely more scared of us than we are of them. But, if you have seen a snake anywhere on your property, the team at Minnesota Wild Animal Management can locate the snake(s) and any nests and safely remove them from your property.
Contact Free Snake Removal in Minnesota
Our team understands that fear is one of the biggest issues when it comes to snakes. While they can bite, most species are not poisonous in our area. One exception is the Timber Rattlesnake, which is generally found in Southeast Minnesota, near bluff areas. Regardless of the likelihood of a snake being poisonous, you and your family likely want it removed from your property. We offer 24/7 snake removal services for our Minnesota clients so that you can reach us and get a response quickly. Snakes move fast, and our team is trained to locate them, even if they have moved to another location in the area.
In addition to safe and humane snake removal services, our team can also complete any cleaning and repairs to your home, if a snake has entered or has decided to nest in or around your home. This prevents future snake problems and issues with other critters. You will find our crew professional and friendly and our prices affordable. We have received an A+ from the Better Business Bureau and have received an "A" Rating 5 Time Super Service Award on Angie's List. We are committed to providing positive customer service to each and every one of our customers.
24/7 Snake Removal
We also realize that this is an uncertain time for many in our community because of the COVID-19 pandemic. We are taking added safety precautions right now to avoid in person contact to minimize the potential for spreading the virus. If you have any questions or concerns about our protocols or procedures, please reach out and we will provide you with the information you need. We can complete the majority of the process (outdoors) and virtually and/or contact free, so that you do not have to come in contact with our team. If you have concerns about a snake on your property call us at 952-881-6662 or 763-785-1414 or call our 24/7 emergency line after business hours at 763-232-7296 or 612-237-8282.