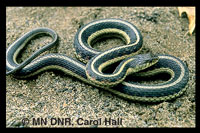 Why did the snake laugh so hard he started to cry?…He thought our joke was hiss-terical!
Snakes can be beautiful and helpful creatures to our environment but when they are in your home, it's no laughing matter. Spring is just around the corner, which can be peak roaming season for our little slithering creatures. If you spot a snake in or around your St. Paul, MN home, you are in luck. Minnesota Wild Animal Management Inc. is just a phone call away from saving the day!
 Snake Removal St Paul MN
Snakes can be a common sighting in St. Paul, MN during the spring months. Snakes can generally be found in the garden, lawn, under damp places like decks or rocks, sunbathing on the sidewalk or driveway, or unfortunately, sometimes even in your home. Fortunately, with the exception of the Timber Rattlesnake, most snakes in Minnesota are not poisonous at all! Snake bites hurt and may cause some bleeding but otherwise, snakes are mostly harmless in this area. They typically don't attack unless they are feeling threatened. With that being said, lots of people dislike snakes and don't want them around their home! That's okay too! If you need a snake removed in or around your home, we are the best service to call!
Snake Removal 24/7
Minnesota Wild Animal Management Inc. has certified staff that can come to your home and take care of any animal problem you may have, including snakes. If a snake has found its way into your home, call us and let us remove the snake and seal the areas of your home where it may have entered. We complete a thorough inspection to ensure that the snake has no nesting or resting areas within your home. Our staff will remove the snake and place it in a more appropriate environment so that you can go on with your daily living!
Snake Removal Process
Give us a ring! We are available 24/7 for emergency needs and can offer flexible times to meet with you in your home.
Inspect! We are quick to identify the problem, determine any other problems like nesting, and then work out effective treatments to resolve the problem.
Remove! You called us for a reason – and that's removal!
Repair! We have the capability to perform any repairs needed to your house that the snake may have caused.
Prevent! Once you use our services, we offer a 4-year warranty that these pesky critters will not come back!
So, if you live in St. Paul, MN and have seen a snake that needs to be removed, give Minnesota Wild Animal Management Inc. a call today at (612) 237-8282.