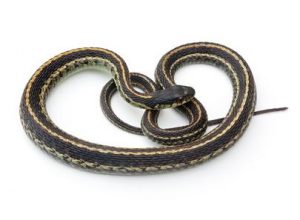 Have you ever met anyone who enjoyed finding a nest of snakes in their home? Neither have we, and we love animals. The reality is that snakes nesting in your home can be scary. It is a certainly different matter if you choose to have a pet snake in your home, but virtually no one wants to find out that a nest of snakes has made part of your home theirs. Minnesota Wild Animal Management Inc. can remove snakes and their nests from your home in a safe and humane way and keep them from returning.
If you find that snakes have nested in your home, give our staff a call immediately. We do not recommend that you attempt to remove the snake nest yourself. Even if the snakes are not venomous, a bite from one or more of them could still cause injury. We will quickly set up a time to perform an inspection on your house to locate the snakes, assess how many of them there are, and determine whether they might have gotten into spaces beyond the nest they have made. Once we have completed the inspection, we will have a better idea of what measures to take in order to remove every unwanted snake from your home.
Experienced Snake Removal Services
Once our wildlife removal crew has removed all of the snakes from your property, we will start the process of repairing whatever damage might have been done by the nesting process. Once repairs have been made, it will be important to ensure that we take preventive measures so that these visitors do not decide to take advantage of your hospitality again. Snakes can be opportunistic. When they nest in your house, it is not because they want to scare you or invade your space, though they likely have accomplished both. They are simply looking for a safe place to raise their babies and do not realize that they are not actually welcome in your living space.
Minnesota Wild Animal Management Inc. is certified by the Better Business Bureau with an A+ rating. We are committed to keeping our good standing by providing our customers with only the best available services. Additionally, we have earned the Minnesota Department of Agriculture's Master Technician status for our commitment to excellence and the development of staff expertise. Our staff is trained to respond to any pest-control issue. If you need immediate assistance, call our 24/7 Emergency Service at 612-237-8282.