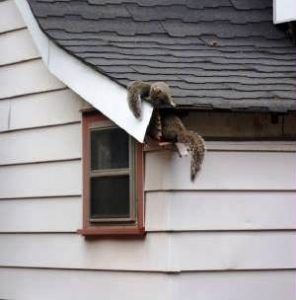 Squirrels are cute little animals when you see them out in your yard or neighborhood. However, if you found them inside your home, you would not be too thrilled. St. Paul, Minnesota has 3 different types of squirrel species including red squirrels, gray squirrels and flying squirrels. During the winter months in St. Paul, MN, squirrels often try to find the warmest location where they can rest and if you're not careful it could be your home. At Minnesota Wild Animal Management, Inc., we offer squirrel exclusion services to the St. Paul Minnesota community.
Over the years, our squirrel exclusion specialists have found squirrels in a wide range of locations around a home. Squirrels have been found to nest in attics, wall space and even chimneys. We all know that squirrels love acorns. In order for them to break into these acorns, they've got to have strong teeth. If the squirrels are not removed from your home quickly, their strong teeth can do damage to your home. Our team has found damage to wiring, pipes, ducts, woodwork, etc., all from a squirrel invading a house.
Squirrel Exclusion Servicrs St Paul, Minnesota
If you think there may be a squirrel anywhere in your home, the first step is to call the squirrel exclusion professionals. From there, our dedicated crew will come evaluate your entire home to make sure that all squirrels, as well as the damage they may have created, are identified. These squirrels can get into extremely hard to reach areas, which is another reason why you should leave this removal process to the professionals. At Minnesota Wild Animal Management, Inc., we take pride in humanely removing the squirrel from your home and letting them go back into their natural habitat. After the squirrel has been excluded from your home, our staff can implement prevention measures to ensure that a squirrel doesn't show up again in your home.
Squirrels are best suited to be out in your yard climbing trees, not in your attic, wall space or chimney. If you believe you may have seen or heard a squirrel inside your home, don't delay calling the squirrel exclusion experts at Minnesota Wild Animal Management, Inc. Serving St. Paul, MN, we are your one stop shop for squirrel removal and prevention services. To set up a home evaluation, pick up the phone and call us today at (763) 785-1414.