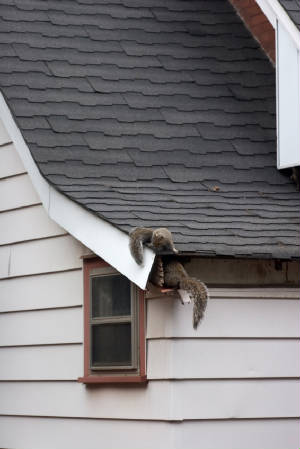 Squirrels are cute enough if you see them at the park or while on a family walk, but they lose every bit of their cuteness if they make it into your Andover, MN home. Squirrels can cause significant damage to your home if not handled properly. Learn more about how partnering with Minnesota Wild Animal Management, Inc. to handle your squirrel removal should be at the top of your to-do list when you start to suspect squirrels have infiltrated your home!
Dangers of Squirrels in Your Andover Home
Squirrels love to make their nests in your attic or chimneys. You can often hear them scurrying around as they make their way through areas of your home. What you may not realize is that squirrels can cause major problems in your home such as:
Damage wood work – Squirrels love to eat through soffit, fascia and other wood to make their way into your home. This can leave areas of your home open to elements like rain and snow, which can lead to major moisture issues in your home. If you notice these types of problems, it's best to call a humane squirrel removal Andover MN company like Minnesota Wild Animal Management Inc.
Damage plumbing – Squirrels have also been known to chew through plumbing pipes, which can lead to big problems in your home. Don't wait until it's too late – make the necessary preventative repairs at the first sign of squirrel damage in your home.
Chew through wiring – Once squirrels are in your home they will have no problem with chewing through your electrical wiring. This can lead to major electrical issues including fires!
Ready to Bring in the Squirrel Removal Experts?
If you think you may have a squirrel problem, it's time to call the squirrel removal experts at Minnesota Wild Animal Management Inc. We will humanely remove any squirrels from your home and perform preventative repairs to ensure that they do not return. For more information give our office a call today at 612-237-8282.