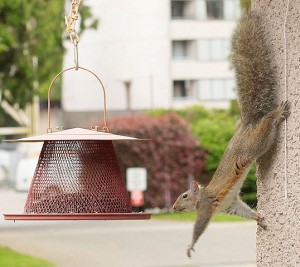 Do you have birdfeeders luring squirrels? Yeah, they are fun to watch, if you don't mind spending a little extra money on bird feed… But there's a fine line between love and hate with these furry and wild little creatures. Unknown to them, your home is not a place you welcome them but the warmer climate and shelter does much to entice them toward your attic, eaves and other spaces they can easily squeeze into. If you are in the Rogers, MN area and suspect that a family of squirrels calls your house a home too contact Minnesota Wild Animal Management today!
Signs You Have Squirrels in Your Home:
Chewed wiring, walls and possible holes
Scratching noises early in the morning and late at night
Roof, venting, gutter, soffit and fascia damages
Stains on ceiling
Urine and droppings covering an area
Natural Nest
Both a homeowner and a squirrel will benefit from a natural nest. Minnesota Wild Animal Management offers humane ways to remove and prevent squirrels from entering that area of your home and others that may be extending a welcome that you were unaware of. We can help you keep the wild out of your home, for a safer environment for you and your family.
Why a Professional Should Remove the Squirrel(s)
We have all seen it, a squirrel is standing statue still and then, in an instant, it bolts up a tree. Imagine that kind of activity in your household. Sure, you might have kids that are just as active but they are not as fast, not as light on their feet and can't climb a tree in a couple of movements. When a squirrel is startled it runs and anything in its path will likely fall – creating a bigger mess. Not to mention you'll need to sanitize all the areas where urine is present and droppings have landed. We will do it all, an inspection, removal and restoring your home.
Contact Minnesota Wild Animal at (612) 237-8282 today!