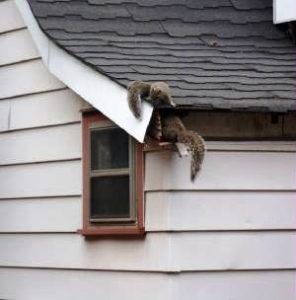 There is probably not a day that goes by in White Bear Lake when you do not see a squirrel. There are many squirrels in Minnesota. Three different species live in the Minneapolis/St. Paul area – gray squirrels, red squirrels, and flying squirrels. Squirrels are cute and pretty harmless to humans unless they decide to enter your home. Minnesota weather is harsh and during the coldest months, squirrels like to stay warm and are looking for food. Squirrels can climb so getting to your roof or in a small hole in your fascia, walls or through your chimney is no challenge. If you think that you might have a squirrel in your home, reach out immediately to the team at Minnesota Wild Animal Management.
Common Problems When Squirrels Enter Your Home
Squirrels can create many problems if they find their way into your home. They are aggressive chewers and use those teeth to chew on wiring, pipes, ducts, wood, even ceilings and siding. They can do a fair amount of damage to your home given their size. Squirrels can also gain entry into your home through inaccessible and very tiny areas. They can cause structural damage that can be really expensive to repair. In addition, squirrels reproduce quickly and have two litters each year. Each litter will have 3-5 babies, so if they nest in your home, you may have multiple squirrels on your hand before you know it. Squirrels can also carry parasites, dirt and bacteria and can leave your home unsanitary.
Humane Squirrel Removal Services White Bear Lake
Minnesota Wild Animal Management Inc. can remove squirrels from your attic, garage, chimney, walls or any other location they have settled in. We have the tools, equipment and experience to be able to locate the squirrels, trap them and remove them humanely so that they do not do any additional damage to your home. The squirrels do not mean to cause problems, so we make every attempt to remove them safely, quickly and humanely.
We can also sanitize the area, repair any damage and make sure that your home is not vulnerable to future entry by squirrels or other wild animals. We have a 24/7 emergency line (612-237-8282) so you can call our team as soon as you figure out that you might have a wild animal problem. We do not recommend trying to remove squirrels from your home on your own. Reach out to us for help for professional squirrel removal services for your White Bear Lake Home.