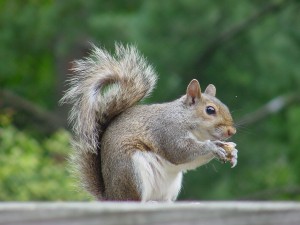 For many people, squirrels are some of the cutest animals out there. Many of us go out of our way on the roads to make sure that we do not accidentally run over them when they cross the road without looking. Surely, all squirrels do is eat nuts and acorns, right? Little do many people know, squirrels can cause serious damage if they are able to get into your home. Living in St. Paul, MN, we have a large amount of squirrels living in our community. If you have noticed a squirrel hanging out around your home, it is important to hire a professional to inspect your home and make sure they have not gotten into your home somehow. You can count on Minnesota Wild Animal Management Inc. to remove any squirrels from your home.
Common Areas They Enter
Attic

– Just like squirrels can climb trees, they can also climb houses, getting into the smallest cracks. Squirrels have been known to nest in attic space.

Chimney

– Get a cap on your chimney fast if you don't have one! Just like an attic, squirrels can also get into your chimney creating unwanted noise, and fecal matter that does not belong.
 Damage Squirrels Can Cause
As we all know, squirrels like to chew on things, and not just acorns. Our experienced team has seen damage caused by squirrels on the woodwork of a home. Additionally, squirrels will chew on wiring, piping, ducts, and many other household necessities.
How We Can Help
Any time you are dealing with a wild animal, letting professionals remove the animal is essential. Our experienced staff uses a 5 step process to remove your wild animals:
Contact Us

– Initiate the call to our staff, letting us know about your squirrel issues.

Inspect

– Our team will quickly come out to your house to perform a full inspection of your home looking for any nests, animals and damage.

Removal

– Once the squirrels have been found, we will remove the animal(s) from your home humanely so that they do not get harmed.

Repair

– Not only do we remove squirrels, but we can also fix any damage that they have caused. Let us be your one stop shop!

Prevention

– Getting rid of a squirrel does not mean the animal will not come back, unless preventative measures are taken. We guarantee the preventative measures used in your home. All services performed have a 4 year warranty, which you cannot find with our competitors.
If you live in St. Paul, MN, and need assistance with squirrel removal, let Minnesota Wild Animal Management Inc. handle it. Call us today at (612) 237-8282.