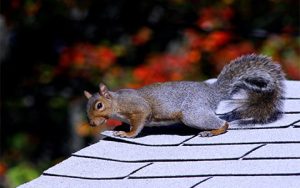 If you're in the Bloomington, MN area you likely see squirrels all around your home and yard. Whether they are red squirrels, gray squirrels, or even flying squirrels, these critters have long made the Twin Cities area their home! If one or more of these inquisitive critters has made their way into your home it's time to call in the squirrel removal pros at Minnesota Wild Animal Management today! We'll be happy to come out to your home to provide you with a free animal removal quote.
Tips If You Have A Squirrel Problem
Below are just a few tips to keep in mind if you think you may have squirrels in your home.
• Hire a Squirrel Removal Company – If you see or hear any signs of a wild animal such as a squirrel inside your home it's best to call in a squirrel removal company as soon as possible. Animal removal can be a complicated project and it's best left to the professionals. Also, squirrels can cause major damage to your home's HVAC ductwork, soffit, fascia, electrical wiring, and other parts of your home. You want to ensure that the damage is as minimal as possible which is why it's important to call someone as soon as you first notice an animal may have entered your home.
• Focus on Animal Removal & Prevention – It's one thing to trap and get rid of the squirrels that may have taken up residence in your home, but it's another thing entirely to ensure all entry points are repaired to ensure it doesn't happen again. At Minnesota Wild Animal Management our work is not complete until the wild animals have been removed from your home and any entry points have been repaired.
• Be Patient – Depending on how long you've been dealing with this problem it could take a bit of time to completely eradicate the wildlife from your home. Be patient with the wildlife removal company you choose so they can ensure their work is done properly. The goal is always complete wildlife removal which can take time.
• Protect Your Home – Most Bloomington residents would agree that their home is their biggest investment. Protect your investment by hiring a reputable squirrel removal company at the first sign of these pesky critters inside your home!
Interested In Hiring A Squirrel Removal Company?
At Minnesota Wild Animal Management, we have decades of experience helping homeowners in the Bloomington area with squirrel removal. To get a free animal removal quote don't hesitate to call us at (763) 785-1414 or (612) 237-8282.