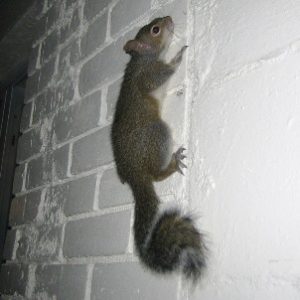 Watching a little gray squirrel can be entertaining with their cute little whiskers and the way they stand up on their back feet to eat. Oh, and watching them gnaw on a little tiny acorn. Adorable. Well, until they invade your home! Those cute little furry creatures can do a lot of damage by chewing cords, cables, wall board, support beams, and other materials. They have been known to cause thousands of dollars in damages to residential properties in a single season! While it is not common for them to enter a dwelling, the experts at Minnesota Wild Animal Management want to let you know what to look for, if you suspect one is somewhere inside your house.
Various Species Of Squirrels In Minnesota
There are three main species of squirrels found in Minnesota: red, gray, and the flying squirrel. The gray squirrel is the most common type. The red squirrel is found in more densely wooded regions of the state and is only about half the size of the gray squirrel. There are two sub-varieties of the flying squirrel: the southern and the northern. They are very similar, except for the color of their undersides. The flying squirrel is nocturnal, so encounters are less likely.
Signs That A Squirrel Has Moved Inside Your Residence
The most common reason a squirrel enters a residence is in search of warmth and shelter. They can be problematic in the damage they can inflict; they can be noisy when active, and can leave urine behind that emits a foul and oftentimes harmful odor. Following are some other signs that a squirrel has entered:
● Signs of a gnawed or chewed out hole in the side of your home.
● Signs of squirrel droppings (foul-smelling) in the corners of your home.
● Signs of chewed electrical cables or pipes.
● Movement sounds in the attic or walls during the daytime hours.
Squirrels Can Be Hazardous To Human Health
It may seem impossible that such a cute animal can be hazardous to your health, but without proper hygiene, handling the squirrel droppings can carry salmonella and infect you. Squirrels have also been documented as carrying rabies and they bring in fleas and ticks in their coats. Lastly, the urine they leave behind grows bacteria that can be harmful to breathe. For these reasons alone, their removal becomes a priority.
Humane Trapping And Squirrel Removal Services
If you find yourself with a squirrel in your home, call the experts at Minnesota Wild Animal Management. The experts will help determine what type of squirrel you have, will work to trap, and fully eradicate the population, work to assess and repair any damages from waste or chewing, and will work to identify and seal off any entry points to prevent a future infestation. So, what are you waiting for? Call Minnesota Wild Animal Management at (612) 237-8282. Emergency response and 24-hour service hours are available.