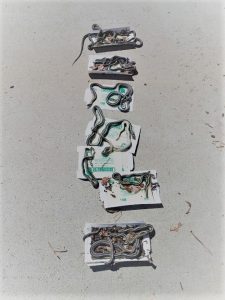 In St. Louis Park, we often get phone calls this time of year concerning snake nests in the home. If you see, find or perhaps even think that a snake may be in your home, our professionals here at Minnesota Wild Animal Management, Inc. are here to help. We provide St. Louis Park snake nest removal services in a timely and efficient manner. So, whether you just see one or have found an entire nest, our team of experts can help remove your problem quickly.
More often than not, home or business owners that cross paths with a snake in their home are extremely shook up. If you don't enjoy snakes it can be especially alarming. Honestly, even if you do, you don't want a wild animal within your home. And if you find a snake in your home that usually means there is a snake nest in or under your home.
Are Snakes Dangerous in the Home?
Truthfully, the majority of snakes found in St. Louis Park are not poisonous and do not cause much harm to your health. They also don't seem to create too much damage within your home even when they nest. They will, however, become defensive when threatened and may bite. Most bites hurt and can cause bleeding or even an infection. The only exception in this area would be the venomous Timber Rattlesnake. Should they nest within your home, it's best to call a professional for removal.
Finding a Snake in your Home
While no one enjoys finding a snake in their home, it's not entirely uncommon. Snakes can burrow in walls and crawl spaces. They like to nest and lay their eggs during the winter months and hatch around this time of year. Thus, the influx of baby snakes and home infestations. If you notice a snake or even snakeskin within your home, just give us a call. One of our experts will talk with you and arrange a time to come and inspect the area. We will determine the species and locate the nest that they are inhabiting. We will discuss with you our methods for removal and give you a fair estimate with no hidden charges. We will then remove the snake nest and its inhabitants, making your home safe and clean once again. Before we leave, we will repair any damage the snake may have caused and take preventative measures so that this problem will not happen again.
If you are looking for St. Louis Park snake nest removal services, don't wait another minute and give us a call today. Call Minnesota Wild Animal Management, Inc., today at (763) 785-1414.