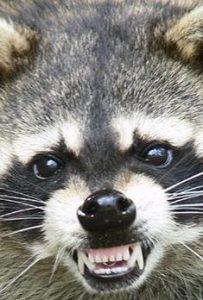 Have you gone to take the trash out at night recently and come into contact with a raccoon on your property? These animals are always on the hunt for scraps, trash, etc. They are very destructive animals that can cause damage and create a mess on your property. The last thing you should do as a homeowner is to try to remove this raccoon from your property on your own. If you have a raccoon hanging around your Minnesota property, reach out to our team at Minnesota Wild Animal Management and take advantage of our safe and humane raccoon removal services.
Sure, there are ways to get rid of a raccoon from your property, but they likely aren't humane. Our experienced animal removal professionals have a passion for helping homeowners remove raccoons and other unwanted animals from their property humanely.
Keeping Everyone Safe During the Process
Our goal is to safely remove the raccoon from your property while not harming anyone during the process, including the raccoon. We can then safely relocate the raccoon to its natural habitat far away from your property so that it can continue living its life. Interacting with a raccoon can be very dangerous because these animals can carry rabies. The last thing that you want is for a family or friend of yours to have to go through the daunting rabies treatment because they came into contact with a raccoon on your property. So, keep yourself, your family and your pets safe by letting our dedicated staff handle the removal of the raccoon from your property. We have the proper experience, tools and equipment to trap the raccoon safely without anyone involved being harmed.
Detailed Raccoon Inspection
If one raccoon is spotted on your property, there could be more of them. These animals love to hide in small, hard to reach areas, making it difficult to remove them from homes at times. Especially with the young raccoons, they can be hard to remove based on the precarious places that they choose to hide. To ensure that all raccoons are identified and removed from your property, our staff will perform a detailed raccoon inspection. We'll inspect every inch of your property and remove all raccoons. If any damage occurred from these raccoons, we'll identify the damage and can even handle the repair process for you as well.
Minnesota Wild Animal Management is your one-stop for all of your raccoon removal needs in Minnesota. We are proud to offer safe and humane raccoon removal services that come at an affordable price. To request service from our experienced animal removal experts, give us a call today at (763) 785-1414.