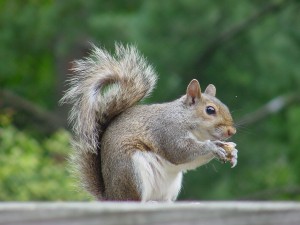 Wild animals like squirrels, raccoons, bats, skunks, snakes, rabbits, mice, moles and birds belong outside where they can live freely, not inside your home or damaging your property. Minnesota Wild Animal Management Inc. specializes in providing fast, responsive and humane wild animal control to those in the Minnesota area. Our team understands that one of the primary reasons wild animal problems occur for Minnesota residents is because we are actually invading the homes of the wildlife. So, we are committed to helping solve with these wild animal control issues in a safe way, to prevent and repair damage to your property AND to make every effort to remove these creatures in a humane way.
Wild animals may not intend to, but can cause stress, fear and even some serious damage to your property. These creatures are especially prone to find a way into your home as the temperatures drop and the weather turns frigid and snowy. They can enter through a crack, chimney, and find their way into attic space, walls, and crawl spaces or even into your foundation, and certain wildlife like squirrels and mice can chew wiring or insulation and can even damage your AC unit or cause an electrical fire. In addition, many wild animals carry bacteria and diseases that you do not want exposed to you family.
Minnesota Wild Animal Management Inc. can locate any wild animals that have invaded your property, determine the entry point to your home, seal it off, and then repair any damage that may have been caused. Our team will respond to your inquiry quickly – we even have a 24 hour emergency line ((612) 237-8282) because we realize that wild animal control issues come up during the night, on the weekends, and even on holidays! Our animal control specialists are clear, responsive and highly professional. They will be very open about the cost of our services and answer any questions that you might have.
Professional and Humane Animal Control MN
So, if you find yourself in a battle with a wild animal that has begun to use their property as theirs, Minnesota Wild Animal Management can help. We offer safe, quick and humane wild animal control to those all over the Minnesota area and stand behind our work, offering the longest warranties in the business. We have many satisfied customers. Contact our team today!