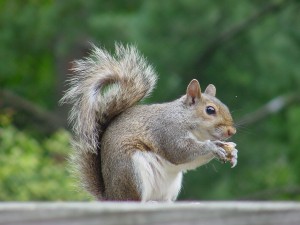 As the snow melts away and the wildlife in St. Paul and Minneapolis begins to reemerge, you might be finding that your home has become host to any number of wild animals. It's bad enough when the in-laws come to visit, but when you're forced to share space with a wild squirrel, mouse, or even a snake, it's time to quit with the hospitality and call in the experts. With Minnesota Wild Animal Management Inc., you can be sure that our humane wild animal removal services will help you reclaim your home or yard from the summertime animal takeover.
Squirrel Removal MN
Whenever you find an animal making itself at home in your home, you know it's time for a change of scenery for the wild creature. But if you think that the cute little squirrel can be handled easily, think again. Any animal that enters your home will most likely put up a fight if you try to force it (or even ask it nicely) to leave. In some cases, wild animals in your home can be dangerous, diseased, and skittish, and if you try to remove wild animals yourself, you could end up causing harm to yourself or to the animal. Rather than letting a raccoon romp around your home until you find the right equipment and speed to catch it, call us instead, and forget about the risks.
Humane Animal Removal
Here at Minnesota Wild Animal Management Inc., we believe in the humane removal of wild animals from your home, and working with a wild animal removal service is the only way for you to ensure that the bats and birds taking refuge in your home leave unscathed. We're here to make sure that every animal has the chance to make it back outside, and we're committed to making that happen as quickly and as simply as possible. So put down the frying pan, forget about the mouse traps, and please rethink the fishing net – we've got you covered. We will remove wildlife from your home, repair any damage left by the animal, and take preventative measures to ward off any wild animals that might try knocking on your door in the future.
Rodent Removal
Our services are geared toward the removal of specific animals caught in your home, including deer mice, mice, moles, chipmunks, squirrels, rabbits, woodchucks, gophers, beavers, raccoons, skunks, snakes, bats, and birds. Each animal poses its own unique risks, so our removal techniques vary for each as well. This means that your best bet at removing any one of these animals from your home is to hire a wildlife removal service like our team. Even if the animal in your home isn't one of our regular clients, our team of wild animal removal experts is willing to work with you to make sure that you and the animals hiding out in your home part ways on good terms.
Attic Animal Removal
Whether your attic has been taken over by bats or raccoons, or your kitchen cabinets are hosting mice, at Minnesota Wild Animal Management Inc., we want to help you take back your home from the pesky wildlife that's invaded. Servicing the Minneapolis and St. Paul Twin Cities area, our team is dedicated to the humane removal of wildlife animals from your home, the repair of any damage left behind by wildlife, and the use of preventative measures to keep wildlife out of your home in the future. If you have an emergency, call our 24-hour number, 612-237-8282, or schedule an appoint by calling any one of our numbers: 612-237-8282, 763-785-1414, 651-633-8600, or 952-881-666. Call Minnesota Wild Animal Management Inc. now, and let us help you make your home your home again.