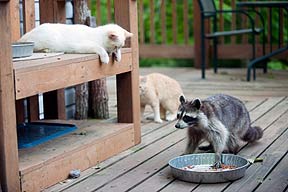 Have you ever had that house guest that just wouldn't leave? You wait and you wait, but they just can't get the hint that you are absolutely ready to kick them out the door! While we can't kick actual humans out of your house, Minnesota Wild Animal Management Inc. is here to help you with all of your wild animal removal needs! No one wants to have an unwanted guest in their home, especially one that is meant for the wild! So for that reason, we are here to help! We are are a wildlife removal company that services all of Woodbury, MN. We make it our business to keep your property free of unwanted critters and keep wildlife in, well, the wild!
Professional Minnesota Wildlife Removal Company

With combined experience of over 35 years, we are a wildlife removal company that is here to help both you and the wild animals invading your home. We make it a priority to humanely rid your home of these animals and fix any damage that may have occurred while your home was inhabited. We all are very experienced in dealing with common pests living in Woodbury, MN and strive to help prevent this problem from happening again. We know that everyone's schedule can be hectic at times so we offer flexible hours for your convenience. We also have a 24-hour emergency wild animal service call for those times when it just can't wait!
Common Woodbury, MN Animals
Beavers
Birds
Chipmunks
Gophers
Mice
Moles
Rabbits
Raccoons
Skunks
Snakes
Squirrels
Woodchucks
Our Wildlife Removal Methods

First, let us know what's going on! Give us a call at any point in the day and we can find a time to meet that works for you!
Finding the problem! Our wildlife removal company prides itself on our trained team members that can identify the animals, determine where they are nesting, and find an effective treatment to eliminate the animals and prevent it from ever occurring again! Before we do anything else, we will provide you with an affordable quote that comes with no hidden fees!
We REMOVE the problem! Our team will take all of the proper steps in removing the animal(s).
Just call us the repairman! Once the animals have been removed, we can repair any damage that has been done to your home. We can repair any damage done to structures, foundations, walls, vents, attics, roofs, or just about anywhere else in the home.
Prevent this whole thing from happening again! We are so confident in our abilities that we offer a two year warranty that these pests will not invade your home or office again!
So, if you live in Woodbury, MN and find an unwanted house guest that just won't leave, call Minnesota Wild Animal Management, Inc. today at (612) 237-8282.