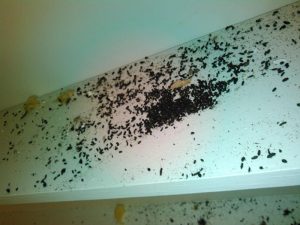 If you have recently dealt with a wild animal in your home, garage or attic, you probably breathed a huge sigh of relief to get rid of the critter(s). Realizing that you are sharing your space with a bat, bird, mouse, rat, squirrel or raccoon is no fun. Getting them out of your home is certainly the first step one takes toward regaining control of your property, however there is another important step that cannot be overlooked. In addition to safe and humane wild animal removal, Minnesota Wild Animal Management, Inc. also offers sanitation services to clean up the mess that these animals leave behind so that your home is safe for you and your family.
Professional Sanitation after Wild Animal Infestation
Wild animals carry germs and disease and when they live in your home (even for a short period of time), their droppings are left behind. This creates a risk of disease for anyone in your family that inadvertently comes in contact with the droppings. Sanitation is a very important step in ridding your home of any wild animal. Our team of professionals can thoroughly clean and sanitize the areas of your home that housed the unwanted visitors. We sanitize attics and garages and any other places that we find have been vulnerable to the wild animals. We realize that keeping your family safe is your top priority, and you do not have the cleaning agents and tools needed to completely sanitize the affected area. In addition to removing the animals, we will take care of the sanitation for you as well.
Affordable Wild Animal Removal, Sanitation and Repair
Our crew has many years of experience with the wild animals of Minnesota including bats, birds, raccoons, snakes, squirrels, mice and rats. We understand where these animals nest and how they move, and this knowledge can help keep your family safe. We remove them carefully, sanitize the area that they came into contact with and can even repair damage that may have been done to your home. We will leave your home free of wild animals and confident that they will not be a problem down the road.
In addition, we continue to work full time during the COVID-19 pandemic. Our work is considered essential by the state so we can respond to your needs quickly. We are following stringent safety guidelines to keep our crew and our clients safe, without risking any unnecessary exposure to COVID-19. For more information about our sanitization services, call us at one of the following numbers: (763) 785-1414 • (612) 237-8282 • (952) 881-6662 • (651) 260-7378.