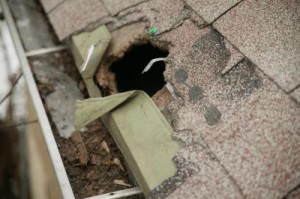 When unwanted wildlife take residence in your home or on your property, the first step is always to remove the wildlife as quickly as possible to minimize the damage that they will leave behind.  And once they have been safely removed, you can survey the damage and begin any necessary repairs.  Minnesota Wild Animal Management, Inc. serves the entire Twin Cities Metro area and can both take care of wild animal removal and repair any damage that they have caused. 
Depending on the type of wild animal that have invaded your property, the damage can be minimal or quite severe.  Some of the most common types of damage includes eating away at electrical wiring, your roof line and even your siding.  Groups of squirrels, raccoons, chipmunks and even mice can also build nests in your walls, underneath your foundation and cause serious damage.  The team at Minnesota Wild Animal Management, Inc. can assess the damage, make quick repairs and then take additional measures to prevent any future damage from wild animals.
In-Depth Assessment, Wildlife Removal and Property Repair
What sets the team at Minnesota Wild Animal Management Inc. apart from other area companies is that we truly can help you with wild animal problems from start to finish. Our team begins with an in depth assessment of all potential wildlife issues on your property.  Technicians will then safely and humanely remove the wild animals on your property and quickly begin all necessary repairs to prevent any future infestation.  Many of our technicians also have a background in construction and/or home repair.  They will repair your property in such a way that no more animals can enter again.  Our team is uniquely qualified to complete your job from start to finish and we even provide a 4 year warranty so you can be confident that this problem will not surface again.
Minnesota Wildlife Animal Management Inc. has experience removing bats, squirrels, raccoons, snakes, mice, skunks, beavers, chipmunks, gophers, rabbits, moles, just to name a few.  Our experience is when there is one animal living in your home or on your property, there are likely many more.  We are available 24/7, understanding that you may learn of an infestation overnight or on the weekends. We will respond quickly, professionally and provide you with the most competitive prices in the Minnesota area.   For more information about the services offered by Minnesota Wildlife Animal Management, Inc., call 612-237-8282.