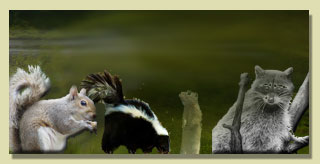 With the seasons changing and temperatures getting cooler, many unwanted animals seek shelter where they can find it in order to stay warm and safe from the elements. If you are hearing sounds in your house or are finding evidence that there are critters in and around your home, now is a great time to seek the professional assistance of Minnesota Wild Animal Management, Inc. Our experienced and trusted technicians can help rid your property of these unwanted animals so that you can resume your day-to-day activities without worrying about running into these pesky animals on your property.
Our team has experience humane removal of the following wild animals:
Bats
Beavers
Chipmunks
Gophers
Mice
Deer Mice
Moles
Rabbits
Raccoons
Skunks
Snakes
Squirrels
Woodchucks
And many others
Minnesota Wild Animal Management, Inc. believes in removing these wild animals from your home/property in humane way. Our technicians have a combined 35 years of experience removing, preventing and even repairing the damage left behind. We understand that these animals mean no harm and, in fact, we have actually invaded THEIR space and their homes as we continue to build in their wildlife habitats. We respect these wild creatures and do our very best to remove them from your home, back into the wild and then work with you to be sure that your home is not susceptible to further invasion.
Minnesota 24/7 Wildlife Removal Services
Your life is busy and the surprise of encountering a wild animal in your home can be extremely jarring. Our team understands this and is staffed to be able to step in and help your family at anytime of day. We have a 24/7 emergency line that you can call, day or night (1-612-237-8282). This work is always best left to the professionals – and those professionals at Minnesota Wild Animal Management, Inc. have combined experience of more than 35 years.
Our service is exceptional and our prices are extremely competitive. Our customers have helped to make us the leading wildlife removal company in the Minnesota area and we could not be more appreciative. We have received a Better Business Bureau Rating of A+ and we are a 5 time winner of the Angie's List Super Service Award! We are located in Blaine, MN and serve the entire Twin Cities Metro Area. So, as fall and winter approach, if you see (or hear) evidence that you have an unwanted visitor in your home or on your property, give our team a call immediately at 1-612-237-8282 so that we can help.