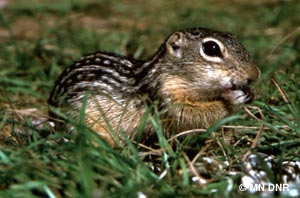 Bats, chipmunks, and skunks…oh my! From time to time animal creatures in the Woodbury area love to make themselves at home, well, in your home! While some of these animals might be cute to observe in the wild, they are often unwelcome as guests in your home. They can cause severe damage to your house and, in some cases, can even carry disease. Minnesota Wild Animal Management Inc. is ready to help remove animals who invite themselves over as well as repair any damage they may have caused.
Humane Wildlife Removal
While it can be frustrating to have wildlife invade your home, they are simply finding shelter in a wildlife area where community expansion has occurred. The animals are not willfully causing damage to your home, but we will humanely remove the critters and return your home to it's previous state by repairing any damage. We specialize in removing a variety of species including:
Bats
Birds
Gophers
Mice
Chipmunks
Moles
Snakes
Minnesota Wild Animal Management Inc. Wildlife Removal Process
One might think that a wildlife removal company simply comes to a home and removes the unwanted critter and that is that. Minnesota Wild Animal Management Inc. actually has a multi-step process for wildlife removal. After giving us an initial call, the process will look like this:
Inspection – This step includes finding the problem and creating a plan for removal. You will be given a price that includes no hidden fees.
Removal – Our trained experts will humanely remove any critters residing in your home.
Repair – Once the animals have been removed, we will repair any damage that the animals caused. This may include damage to attics, roofs, and vents.
Prevention – We know you don't want the critters to return to create further damage, so we take measures to make sure they can't and don't. We give you a two year warranty to ensure you are critter free!
Why Minnesota Wild Animal Management Inc.
When dealing with animal removal, you will want to choose an experienced, knowledgeable, professional company. Minnesota Wild Animal Management Inc. has more than 35 years combined experience in the industry. In addition, we have an A+ rating with the Better Business Bureau. When we come to handle your pest control, we will not only remove the animals, but make sure you will not have to deal with the problem again. If you have unwanted guests making themselves comfortable in your home, give Minnesota Wild Animal Management Inc. a call today at (612) 237-8282 to schedule an appointment!