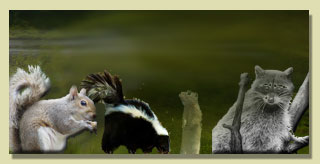 When you are sick you call the doctor. When you are training for a sport you get a coach. When your furnace breaks, you find an expert and get your HVAC guy out there! So when you have a wild animal in your home, it's only right that you call the professionals at Minnesota Wild Animal Management Inc. We perform wild animal removal near Woodbury, MN and the surrounding areas. When something is in your house that doesn't belong, we are the experts to call!
Woodbury Wildlife Removal Services
Listen, whether it's a couple of small bugs or your house is looking like it belongs in the movie Jumanji, our friendly technicians will take care of business and restore your home so that the wild stays outside of your house! This time of year we get a lot of phone calls from animals trying to take advantage of your space, moving right on into your home. Minnesota Wild Animal Management Inc. performs all types of Woodbury wildlife removal services. We know the common critters that tend to crawl into your home this time of year and we can help you in 3 ways. We can prevent them from ever coming in, remove and sanitize the part of your home that they have invaded, and then provide home repair for the damage that occurred while you all were cohabitating.
Wild Animal Removal Near Woodbury, MN
Whether it's during the day or in the middle of the night on Christmas, we have professionals standing by 24/7 to come to your rescue and remove whatever wild animal that has welcomed themselves into your home. Once you call us, one of our highly trained staff will come and inspect your property. We will identify the animal, determine their nesting area, and find an effective treatment to get rid of the problem and prevent it from reoccurring. Once we are in agreement, we will remove the animal(s) and repair any damage they have done. Lastly, we will take the extra steps to prevent these animals from returning to your home. We are so confident that we provide a two year warranty that those critters will not be back!
So if you are looking for wild animal removal near Woodbury, MN, give Minnesota Wild Animal Management Inc. a call today and get your house feeling back to normal! For more information on Woodbury wildlife removal services, call us today (763) 232-7296.