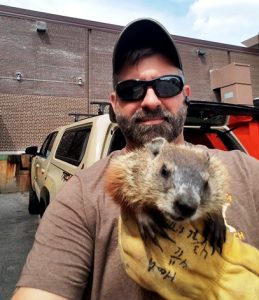 As a homeowner, the thought of a woodchuck hanging inside or around your property is not something that you would be excited about. Woodchucks, also known as groundhogs, are best known for their burrowing habits. This digging can become an issue on your property, especially if you are an avid gardener or landscaper. Woodchucks favorite thing to do is eat. They can eat up your garden in just a few short minutes. So, if you've recently noticed a woodchuck hanging around your Minneapolis property, it's important to call the woodchuck elimination team at Minnesota Wild Animal Management, Inc., as soon as possible. We specialize in humane wild animal removal. Once caught, we relocate the animal to our property in Northern Minnesota.
Humane Woodchuck Removal
Woodchucks are extremely difficult to catch on your own. As animal removal specialists with more than 35 years of combined experience, our staff has removed their fair share of woodchucks from Minneapolis properties over the years. The most effective way to get rid of these rodents from your property is by utilizing humane woodchuck traps. Once our crew traps the woodchuck, we'll take it away from your property and let it free back into the environment. Leaving this removal process up to our staff will limit any injury and will speed up the removal process as well.
Woodchuck Elimination in Minneapolis
At Minnesota Wild Animal Management, Inc., our woodchuck elimination services don't just stop after the woodchuck has been removed. Instead, we offer our clients the total woodchuck elimination package. After the woodchuck is removed from your property, we'll incorporate preventative measures to ensure that these unwanted rodents don't find their way back to your property any time soon. We can also handle any of the damage that these pests left behind. To provide added peace of mind, all of our repairs are backed by a two year warranty, which cannot be matched in the Minneapolis area.
Dealing with a woodchuck on your Minneapolis property is not something you thought would happen. So, rather than trying to get rid of this rodent by yourself, let our woodchuck elimination team in Minneapolis handle this for you. To top it off, our preventative services will ensure that the woodchuck doesn't return any time soon. If you've got a woodchuck issue around your property, give Minnesota Wild Animal Management, Inc., a call today at (763) 785-1414. We're confident that you will not find a better total woodchuck elimination package than the one that we have to offer.