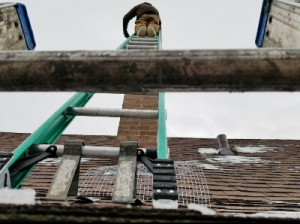 During the winter months in the Minneapolis area, many families use their chimney and fireplace regularly for some added heat around the home. During the other parts of the year, however, the chimney is one of those areas that gets ignored. That's not necessarily the case, however, with animals. If an animal has made its way into your chimney, it may not know its way out without some professional removal assistance from our team at Minnesota Wild Animal Management. As you can see in this picture of one of our experienced technicians, just getting up on the latter to check things out is not for an untrained professional.
Common Animals Found in Minneapolis, MN Chimneys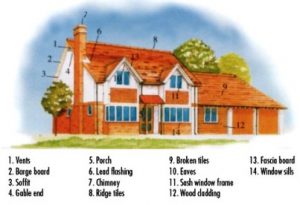 You're not going to find a frog in your chimney. The only animals that can make their way into your chimney are one's that are incredibly mobile, can climb or can fly. Over the years, our team at Minnesota Wild Animal Management, Inc., have commonly found birds, rats, mice, raccoons and squirrels in chimneys. As you can tell, these aren't animals you want to try and remove on your own. These animals can carry diseases and can be aggressive if they feel threatened. So, focus on some other home improvement project that you can safely manage while our dedicated staff humanely removes the animal from your chimney.
Humane Animal Removal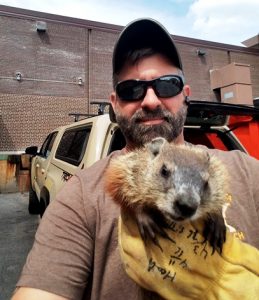 At Minnesota Wild Animal Management, Inc., we have mastered the animal removal process. Additionally, we care about the animals that we are trying to remove and our goal is to safely remove them from your property and release them back into their natural habitat. Thanks to more than 35 years of combined humane removal experience, our team has developed a removal process that is effective every single time. The first step of the process is to pick up the phone and give our animal removal professionals a call to let them know about the animal in your chimney. From there, we'll come to your home to inspect the chimney and other areas of your home to ensure that all animals are identified if there is more than one. Next, the animal will be safely removed from your chimney. Our work isn't done there as we can handle any repairs that may have occurred when the animal was in your chimney. Our last step in the humane removal process is to apply preventative measures around your chimney to make sure that no animals make their way back into your chimney in the future.
The chimney is supposed to be a place where you can enjoy a fire, not a place for an animal to hide or nest. If you have an animal in your chimney, make the right decision and give our expert humane wild animal removal professionals at Minnesota Wild Animal Management a call today. Contact us at (763) 785-1414 to request a free no obligation estimate.