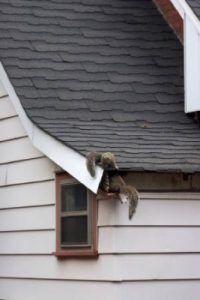 You're going about your day, relaxing in your living room, when you suddenly meet the eyes of the friendly neighborhood squirrel who's taken refuge in your home. If you're like most, you don't expect – or want – to get cozy with the wildlife in your area, and when you find an unwelcome guest in the form of a squirrel, you're not the least bit prepared to deal with it. That's why EcoTech is here to help. As wildlife removal experts, we have experience humanely removing animals of all kinds, helping home and business owners go about their days without having to worry about the critters they may or may not be playing host to. If you've discovered a squirrel in your property, don't hesitate to contact our Minneapolis, MN humane squirrel removal experts today to make sure your guest doesn't start causing problems.
Wild Animal Control Experts
As part of Minnesota Wild Animal Management, it's safe to say we've seen our fair share of animal invasions, and removing squirrels is a pretty simple job compared to some other pests and wildlife we meet on the job. That said, squirrel invasions should not be taken lightly. Squirrels can do a world of hurt to a property, especially when left to their own devices for too long. Like any animal that tries to make your property its home, squirrels will tear apart the areas they choose to nest in, drag in or scavenge for food, and leave droppings wherever they choose. None of this should be left to work itself out. You need squirrel removal experts to free your property of any squirrels and signs of their presence.
Preventing Future Squirrel Invasions
When most people find a squirrel in their home or business, they quickly go through feeling surprised to terrified to a little entertained. After all, it's not every day you're in such close quarters with a squirrel, and they're not exactly the fiercest of creatures. But don't let the fluffy exterior fool you. Like any animal, squirrels can be dangerous, and they need to be dealt with as you would deal with any other animal or property repair. We'll get rid of your squirrel problem and search your property for the entry and exit points that made the squirrel break-in possible, then we'll get started preventing future nesting by sealing off these areas and removing all signs that the squirrel was there so that they don't come looking for their makeshift home again.
Commercial and Residential Squirrel Removal
Whether it's your home or business that's seeing an increased squirrel population, we want to help make sure your property can go back to its squirrel-free glory days. As humane Minneapolis  squirrel removal experts, we can't stress enough the importance of calling in the experts rather than taking on the job yourself. We have the right tools and equipment, as well as years of experience safely catching and releasing squirrels, and preventing them from making your home their own. Contact us today at 763.785.1414, 612.237.8282, 952.881.6662, or for emergency help, call 763.232.7296.