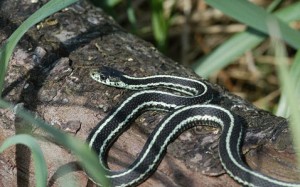 Why couldn't the snake have any babies? Because she had a hiss-terectomy! Ha! Unfortunately, no MN snakes have had that procedure here! That's right, folks! It is snake making season! Due to our warmer climate this time of year, snakes are making their way out of their nooks and crannies and beginning to cross paths with us humans. If you are scared of snakes or find a snake's nest where it doesn't belong, Minnesota Wild Animal Management Inc. can help you out!
Snakes On A Plane…or Snake in Foundation?
So where are our slithery serpents lounging around these days? You can typically find snakes in your garden, within your lawn, under large rocks, under your deck outside, or sometimes even under or inside your home. When snakes venture out of these spots to sunbathe, they are often seen right on the sidewalk or driveway, catching the rays. Whether you are afraid of snakes or not, you typically don't want a snake in foundation or a snake in your home! A key thing to remember is that most snakes aren't aggressive and won't attack you unless they feel threatened. So when an unwanted snake is present, it's best to call the Minnesota Wild Animal Management Inc. to come take care of the problem for you.
Should We Freak Out?
Honestly, people fear snakes. For this reason, when folks call in we will do everything we can to get there as quickly as possible. A good thing to recognize is that most snakes in Minnesota are not poisonous. The bluff areas of S.E. Minnesota are home to the Timber rattlesnake, which is the only poisonous snake commonly found in Minnesota. So, if the worst scenario happens and you end up getting bit by a critter, it will hurt and cause bleeding, but it is typically not life threatening.
Snake Nest Removal
While we do get a lot of calls for general snake removal, sometimes during this time of year a snake nest removal is necessary. If we find a snake in foundation that has settled in and made a nest, our snake pest control services includes removing that nest and ridding your home entirely of the problem. When there is snake pest control issues, our professionals at Minnesota Wild Animal Management will quickly come to the rescue, perform the snake removal and then seal the areas that allowed them access in the first place.
If you are in need of snake pest control services, Minnesota Wild Animal Management, Inc. can help. Call us today at (612) 237-8282. Help is on the way!