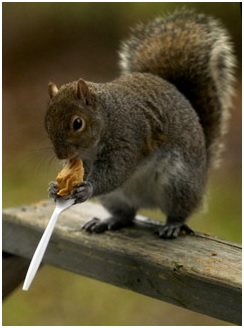 It's almost as if squirrels seem to enjoy teasing homeowners when they tear up landscaping and unearth bulbs and seeds with their constant hole-digging. If you ask most Edina, MN homeowners, the best squirrels are the ones that hang out in your neighbor's yard!  We applaud our Edina neighbors who enjoy the company of squirrels because feeding them tends to keep the squirrels from visiting our homes down the street. You need Minnesota Wild Animal Management, Inc. to evict those pesky squirrels from your home!
Squirrels In The Home
While we typically think of squirrels as living high up in large nests in the trees, occasionally the crafty ones will find their way into homes where they will become the least favorite houseguest. Just because they're cute and their tails are fluffy, don't be misled; the squirrel is not the ideal visitor. Once you've heard the annoying pitter patter of their footsteps in your attic walls, you'll understand why it's time to evict them as soon as possible!
The Problem With Squirrels
What's the problem with squirrels building nests in the home?
One problem with squirrels entering your living space is the way they got there. Chances are, your visitor has gnawed its way into your home by creating a hole in your siding, vent work, or near your roofline. Some gain entry via the chimney. Once inside your home, squirrels have the ability to wreak havoc with your electrical wiring, ductwork, walls, pipes, woodwork, and basically anything else that can be expensive to repair or replace.
Another problem with squirrels living in your home is the threat they post to your health. The urine and solid waste produced by squirrels is not something you want left in your home for a long period of time. Beware of the parasites and diseases that can come along with squirrels.
If your squirrel has a new family and had babies while in your home, don't attempt a DIY squirrel removal; if you try to come near them, mama can be protective.
If You Have A Squirrel Problem In Edina, MN
Don't attempt to remove squirrels yourself. Hiring the Edina squirrel control experts is the only way to ensure your squirrel problem is handled safely and effectively. Not only will the professional squirrel removal experts at Minnesota Wild Animal Management, Inc. humanely remove squirrels from your property, we'll fix any damage they've done to your home, which is the best way toward squirrel prevention of reentry.
Call For Edina MN Squirrel Control
When you need the Edina squirrel removal experts, don't delay. Call Minnesota Wild Animal Management, Inc. today at (612) 237-8282.