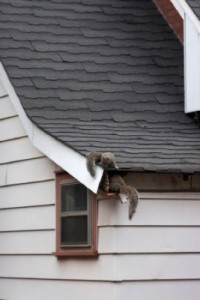 Squirrels, especially gray squirrels, are common throughout Minnesota but specifically the twin cities and the metro area. Squirrels are members of the rodent family and are highly arboreal. They tend to be very highly active in the summer and in the fall where they scavenge for food for the winter.
Tree squirrels generally nest in trees in wooded areas. Since Minnesota has a ton of wooded areas that we keep building into, it is forcing squirrels to look for alternative places to live and therefore housing structures are a great choice. The most common invaded areas are garages and attics. Squirrels reach these areas by chewing holes in the exterior of the structure and typically nest, store food or both. Their activity is usually noisy and heard by anyone in close proximity.
Tree squirrels are most active in the early morning and late afternoon hours. They spend this time in search of or storing food. The most common diet of squirrels is fruit, bark, nuts, seeds, buds, leaves and insects. Although gray squirrels are the most common in the twin cities, flying squirrels are also around but they are less seen because they are nocturnal. These squirrels share a similar diet but they also eat a lot of moss.
Squirrels have offspring either in the early spring or the late summer. Tree squirrels generally bear two litters per year, while flying squirrels tend to give birth only once annually and litter size are usually between 3-8 offspring.
If you do not see a squirrel but notice signs of gnaw damage, such as for food and nesting sites, as well as daytime sounds of their activity, such as in attics.
Controlling tree squirrels is a challenging task. Dealing with mammals can be difficult. Squirrels are quick and agile and therefore it is advised to work with a professional when dealing with these animals. Be sure to identify the number of squirrels and if they have young nesting. Often, squirrels will burrow under insulation to nest, so discovery may not be easy. Exclusion can often be accomplished by using wire cloth to keep squirrels out.
If you have a squirrel problem and are living in Andover, Ham Lake, Coon Rapids or Oak Grove, we are here for you. We will trap and remove them each squirrel. Hiring a professional trapper such as Minnesota Wild Animal Management Inc. can help ensure the trapping is done in a timely and humane manner. On top of removing the squirrels, we also fix the damage they have done, and repair your house so they will not return!