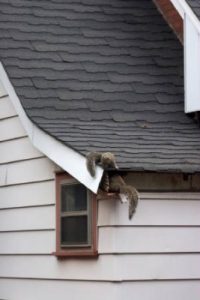 Squirrels have become part of life in Minneapolis, MN. Often times you try to avoid them as they suddenly cross the street in front of your car. In heavily populated areas, such as college campuses, these squirrels are so used to being around humans that they don't run off when you walk closely beside them. Overall, squirrels are rather cute animals, that is, until they get into your home! Most squirrels live up in trees, but they have been known to venture off into homeowner's attics, chimneys, etc. So, rather than trying to remove this incredibly fast squirrel from your home on your own, leave it up to our team at Minnesota Wild Animal Management, Inc.
Squirrel Removal Experience
When it comes to squirrel removal in Minneapolis, MN, this isn't our first rodeo. In fact, our team of professional squirrel removal experts have more than 35 years of combined experience. Over the years, we have been able to document certain habits of squirrels and have mastered our removal process along the way. We have no intentions of harming the squirrel that has intruded on your home. Our removal process is focused around humane techniques that keep the squirrel safe, while removing the squirrel from your home as quickly as possible.
Damage from Squirrels
Squirrels sure do look cute as they chew on an acorn, but what about when they are chewing on the woodwork of your house? Squirrels will chew on just about anything that they can get their little hands on! We've seen squirrels chew on wood, wiring, pipes, ducts, etc. So, the minute you notice a squirrel in your home, attic or chimney, call on our dedicated removal professionals as soon as possible.
The Total Package
One great thing about teaming up with our staff at Minnesota Wild Animal Management, Inc., is that we don't just handle the squirrel removal process. Additionally, we can handle any damage caused by these unwanted animals in your home. So that you can get the squirrel removed and the damage addressed all in one fell swoop, choose our exceptionally skilled team for all of your animal removal needs.
The key step for you as a homeowner in dealing with a squirrel in your Minneapolis home is to pick up the phone and call Minnesota Wild Animal Management, Inc. From there, our humane squirrel removal team will safely remove the squirrel and let it go in its natural habitat. Additionally, we'll gladly repair any damage caused by the squirrel. Give us a call today at (612) 237-8282 to learn more about our services.