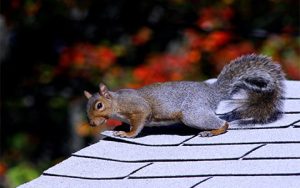 Springtime is a season of renewal and beauty – snow melts, trees and flowers blossom, and new baby animals emerge. Unfortunately, it can also be an especially vulnerable time for homeowners when it comes to wildlife problems around their home. Read these tips on what you can do about wildlife problems in spring and how to keep wild animals away from your property.
Homeowners may come across many wild animals during springtime near their property. When these predators get too close, it could pose a major problem. Some of the creatures' homeowners should keep an eye out for include:
● Raccoons – Raccoons tend to be quite cunning and will often try their luck at raiding trash bins in search of food. If possible, they'll break into homes to try their luck at finding something edible. Raccoons carry rabies and may attack if they feel threatened.
● Squirrels – Squirrels often try to gain access to bird feeders or fruits that are growing. If they're looking for a secure place to live, they may chew their way into an attic or other high-density areas.
● Bats – Bats can get into tight places, such as an attic. Not only that, but their droppings contain diseases that could be transmitted to those inside the home if left unchecked. Therefore, bats pose a health risk to everyone living there.
Preventing Wild Animal Encounters During The Spring
Many pests can be prevented from entering homes to nest during the spring months. By understanding wild animal behavior during this time and what they might look for, homeowners can prepare their home so pests cannot get inside. A few tasks to do include:
● Trim Branches – Trim tree branches to prevent an easy path from the treetop to your home and attic.
● Clean Gutters – Clean the gutters so they function properly and don't look like a good place for animals to nest.
● Fill Any Holes or Damage – Any holes or damage in a home could provide an entrance point for wild animals, so make it more difficult for them to get inside. Fill any such openings to make it more difficult for animals to break in.
How To Handle Wild Animal Encounters
No matter how hard a homeowner works, wild animals may still manage to get inside or near enough to become an issue. At this point, it's wise to contact a wildlife removal specialist. Never attempt to handle wild animals on your own as this leaves you vulnerable to injuries and diseases. Instead, contact a wildlife removal specialist if you have any wildlife issues in the springtime. They can help remove the animals from around your home, eliminating the chance for return visits by unwanted visitors. Contact Minnesota Wild Animal Management today for more information about protecting your home from springtime wildlife intrusions and how best to prepare.