Beavers, Bats, and Skunks—Oh My! Wild Animal Control St. Paul, MN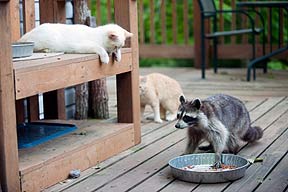 One of the nice things about living in St. Paul, MN is the enjoyment of seeing the occasional wild animal and the peaceful scenery. However, when an unwanted animal encroaches on your home or property, someone has to go and it shouldn't be you. When that happens, don't try to wrangle the animal by yourself. Call a qualified animal removal company like Minnesota Wild Animal Management Inc. Trying to evacuate an animal without the proper tools or training could hurt you or the wild animal. Seek the help of trained experts who use humane techniques to remove and in some cases, relocate wayward wildlife.
Wild Animals in St. Paul, MN
Become familiar with some of the most common wild animals found in St. Paul, MN. Use this list as a starting point or guide:
Raccoons: Furry but not very friendly, raccoons like checking out human homes for several reasons. The main reason seems to be the easy food sources available like pet dishes and unprotected garbage cans. Raccoons can also be curious about domestic pets and can pose a threat to them.
Opossums: Opossums are scavengers who don't mind taking up residence in your attic or under the house. Opossums often seek shelter in human homes when they are sick or diseased. Do not attempt to assist an opossum as they have sharp teeth and dangerous claws. Instead, be sure to call the trained experts.
Skunks: When a skunk comes around it is never a surprise. These wild animals are considered pests because they exude an odor that they commonly spray on pets, fences or other areas of the home. They enjoy digging and are often found in basements and under decks. Avoid getting sprayed as it can have quite a lingering effect. Call a qualified animal removal service that will use humane techniques to remove your smelly friends.
Snakes: In St. Paul, MN, there are dozens if not hundreds of snake species. Most of these snakes are not dangerous but people do fear them and so do pets. Snakes are clever and can get into small places and even come inside the home. Don't try to handle these on your own, call Wild Animal Management Inc. if you spot a snake in your home or on your property.
Professional Wild Animal Removal
These are just a few common examples of wild animals found in St. Paul, MN. You can rely on Minnesota Wild Animal Management Inc to safely capture and remove unwanted pests from your home. Minnesota Wild Animal Management has two offices one in Blaine, Minnesota, and the other serves the Twin Cities Metro Area. Call our emergency number for immediate help at (612) 237-8282 or contact us in normal business hours at (763) 785-1414!