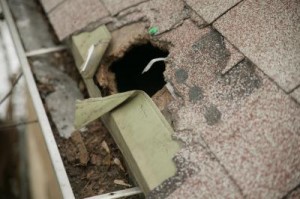 When you find a raccoon living in your attic or a squirrel resting in your spare bedroom, you might start thinking about the various methods you've seen used on TV or in movies to wrangle a wild animal. If you're not experienced in catching, securing, and relocating wild animals, though, it's always best to call in the professionals to take care of your critter problem for you. At Minnesota Wild Animal Management Inc., we're committed to keeping you and the animals invading your home safe from harm, serving the Minneapolis and St. Paul, Minnesota area. When you call our wild animal removal experts, you can be sure that we'll bring more than a net and a safari hat, and we'll leave with your wild animal safely secured.
It's no secret that wild animals are difficult to capture when they've made your home their own, and if you've ever tried to catch a loose wild animal roaming around your house yourself, you've probably run into some trouble. Whether the animal is too fast, too small, or just too creepy to capture on your own, you can be sure that many wild animals that make it into homes are also diseased, scared, and potentially dangerous. Even the most good-natures species, if feeling threatened, can be violent, and if you're inexperienced with wild animals, it's best for you and the animal to keep away from it.
For our wild animal removal experts, helping you reclaim your space is our top priority, and just below that is making sure that you and whatever wild animals are lurking in your home part ways without causing any harm to each other. Because we've been in the wild animal removal and management business for a while, we know that different animals behave differently in different situations, and their behavior also depends on their physical and mental health. We've seen pretty much everything, and we're now able to humanely remove almost any wild animal that makes its way into your home.
Our typical clientele include deer mice, mice, moles, chipmunks, squirrels, rabbits, woodchucks, gophers, beavers, raccoons, skunks, snakes, bats, and birds, but if your home is playing host to some other wild animal that we haven't mentioned, give us a call and find out whether we've got experience in removing it. No matter what it is, our wild animal removal experts are committed to helping you and the wild animals in your home make it through your little altercation safely.
If you've found a wild animal sleeping in your home, don't make the mistake of taking it on yourself. Instead, trust Minnesota Wild Animal Management Inc. to safely and humanely handle the situation. If you're in the Minneapolis and St. Paul, Minnesota area, and need help removing a wild animal from your home, call us at 612-237-8282, 763-785-1414, 651-633-8600, or 952-881-666, to schedule an appointment. If you have an emergency, or you think the wild animal in your home could be dangerous, don't hesitate to call our 24-hour number, 612-237-8282.