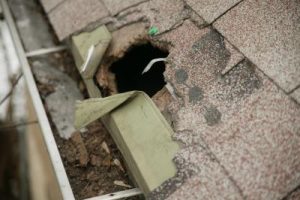 At Minnesota Wild Animal Management, Inc., we see an increasing number of animal home invasions this time of year. Finding a place that is warm and out of the cold is a natural means of survival for animals and unfortunately, your home happens to meet their needs. Pests or other wild animals that enter your home can cause a lot of damage. At Minnesota Wild Animal Management, Inc., we work to remove those pests, first and foremost, but then complete all the necessary repairs that the unwanted guests may have caused. If you are in Minneapolis, MN and are looking for winter animal repairs, Minnesota Wild Animal Management has got you covered.
Winter Animal Damage
Obviously getting rid of the animal and pests is the first step in any winter animal repair. We want to make sure that no further damage occurs within your home. Whatever type of wild animal entered your home, it's likely that it did some sort of damage. Animals and pests that make their way into homes have this innate ability to destroy everything they touch. Wild animals and pests have been known to chew away at your electrical wires, gnaw through roofs and siding, nest and breed within your walls, vents and attics, and even burrow under the foundation and cause foundational issues for your entire home. When an animal is looking for a warm place during the winter, they are relentless at making their way into your home and then overstaying their welcome.
Winter Animal Repairs
At Minnesota Wild Animal Management, Inc., we are happy to say that we can take care of your entire problem from start to finish. We will identify the animal or pest, humanely remove it from your home and then focus in on the repairs that your home needs after seeing the damage it caused. We even go a step further in this process to implement preventative measures so that your home is not invaded again. All professionals at Minnesota Wild Animal Management, Inc., have extensive backgrounds in construction and home repair, saving you time and money by doing everything from start to finish.
This winter, feel confident that you are snuggling up to your own pets and family and not the pests that belong outdoors. If you are in need of winter animal removal or repair in Minneapolis, MN, give us a call today. Contact Minnesota Wild Animal Management at (651) 260-7378.